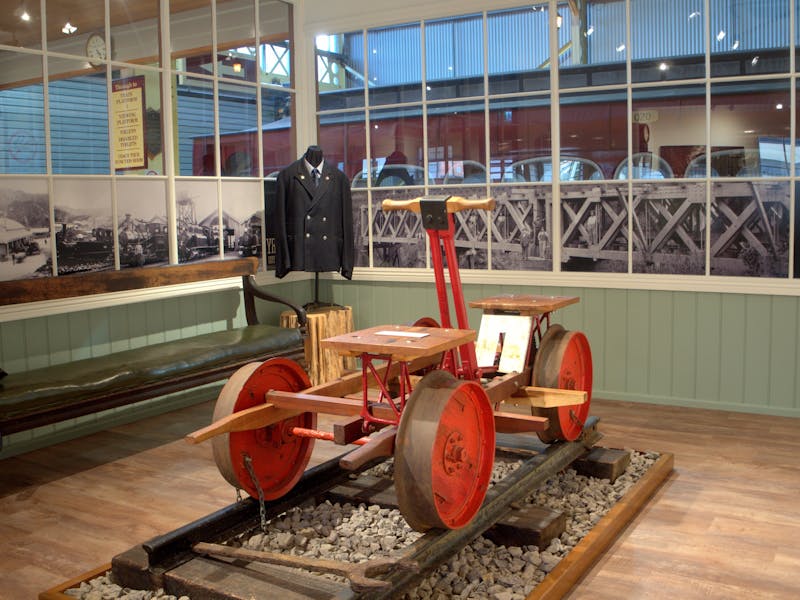 The West Coast Wilderness Railway Museum at Queenstown Station has been fully refurbished to better reflect the history or the Railway.

Using a combination of original authentic artifacts and informative displays, the museum recognises all those who have played a part in the Railway's story, from its original construction in the 1890s as a means of getting minerals from the mines of Queenstown to the port of Strahan, to its renewal in more recent times as one of the region's major tourism attractions.

Entry to the museum is free and it is open daily, with opening hours reflecting those of the adjacent station ticketing office, gift shop and Tracks Cafe.
Eric Thomas Gallery Museum

Housed in the original Imperial Hotel (built 1897) (The museum has an extensive collection this collection is 98% donated and it is run by a volunteer committee and volunteers) historic West Coast photographs, more than 1,000 photographs are displayed many of which were collected by Mr Eric Thomas, who first established the museum.
There are 30 rooms of historical items including personal effects, documents, cameras, theatre projectors,house hold items, gems and minerals , military, emergency services,mining artifacts and the very varied social life all depicting aspects of West Coast heritage.
Also take the time to view an extensive Royal Family memorabilia collection from Queen Victoria to the present and watch a film about Mount Lyell and the memories of the towns people.
Tasmanian Devil Sanctuary
A world class wildlife conservation facility at Tasmania's premier wilderness destination. The spectacular and pristine wilderness of Cradle Mountain is home to the mysterious and secretive Tasmanian Devil.
Devils @ Cradle is a unique Tasmanian conservation sanctuary located at the entrance to the spectacular World Heritage listed Cradle Mountain National Park. Whilst we concentrate primarily on the Tasmanian devil, the sanctuary is also home to the closely related Spotted-tail and Eastern quolls. Tasmania's three largest carnivorous marsupials are all now threatened in one way or another in the wild.
Visitors to the sanctuary can view these animals from the comfort of the visitor centre, wander through the sanctuary at their leisure, or join a personalised guided tour which ensures a close up encounter with our animals. Your visit will provide an insight into the daily operation of a working conservation facility for one of the world's iconic animals, knowing your ticket fee is contributing to our conservation of these species.